Monday, May 16, 2011
This past weekend we dropped the kids off at the in-laws and had an AH-MAZING adults only weekend!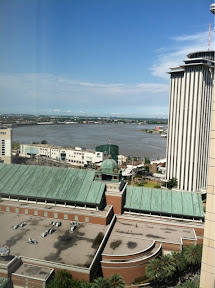 View from our hotel room!
Got to see first hand how high the Mighty Mississippi is getting. We strolled around the quarter, ate boiled crawfish, rode the streetcar uptown to meet with my bro-in-law to have sushi, got a massage on Magazine street, ran into a couple of celebrities (Bryan Batt-Mad Men and Josh Lucas-Sweet Home Alabama), convinced my best friend Re and her hubby LT to come party with us on Bourbon, found a great place to eat some GOOD food, drank a lot, danced some, and had a wonderful relaxing weekend!! Cannot wait to do it again, even if I am still feeling it 2days later!
Me and Re
This is what happens when you ask your hubby to take your picture late in the night (or is it early in the morning)
Thanks for caring,
K
- Amazingly I figured it out!